Eldritch Foundry is in Boston for PAX East, March 23 – 26! We're in the Tabletop Hall, at Booth TT54, just across from Cephelofair and Dice Throne: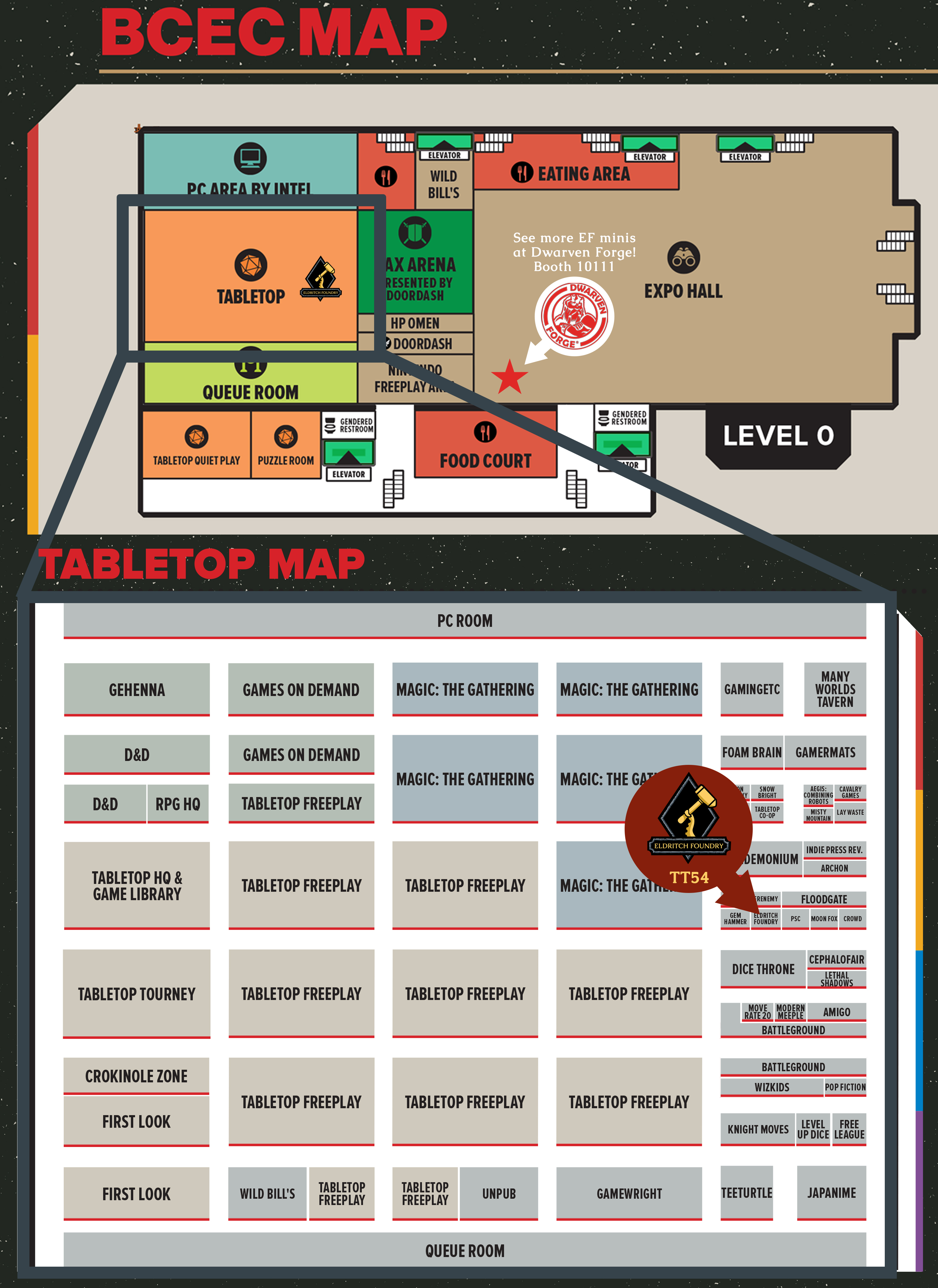 The nice thing about the Tabletop Hall, besides the chill vibes, is that while the rest of the Expo Hall closes at 6 PM, we can stay open as late as midnight each night. We're planning to hang out as long as folks keep coming by, so do come on by!
ENTER TO WIN A 3D PRINTER
Scan the code in our booth for a chance to win an Elegoo Mars 3 resin printer — a popular choice for printing Eldritch Foundry characters at home — plus a bottle of water-washable resin so you can get started making your minis right away.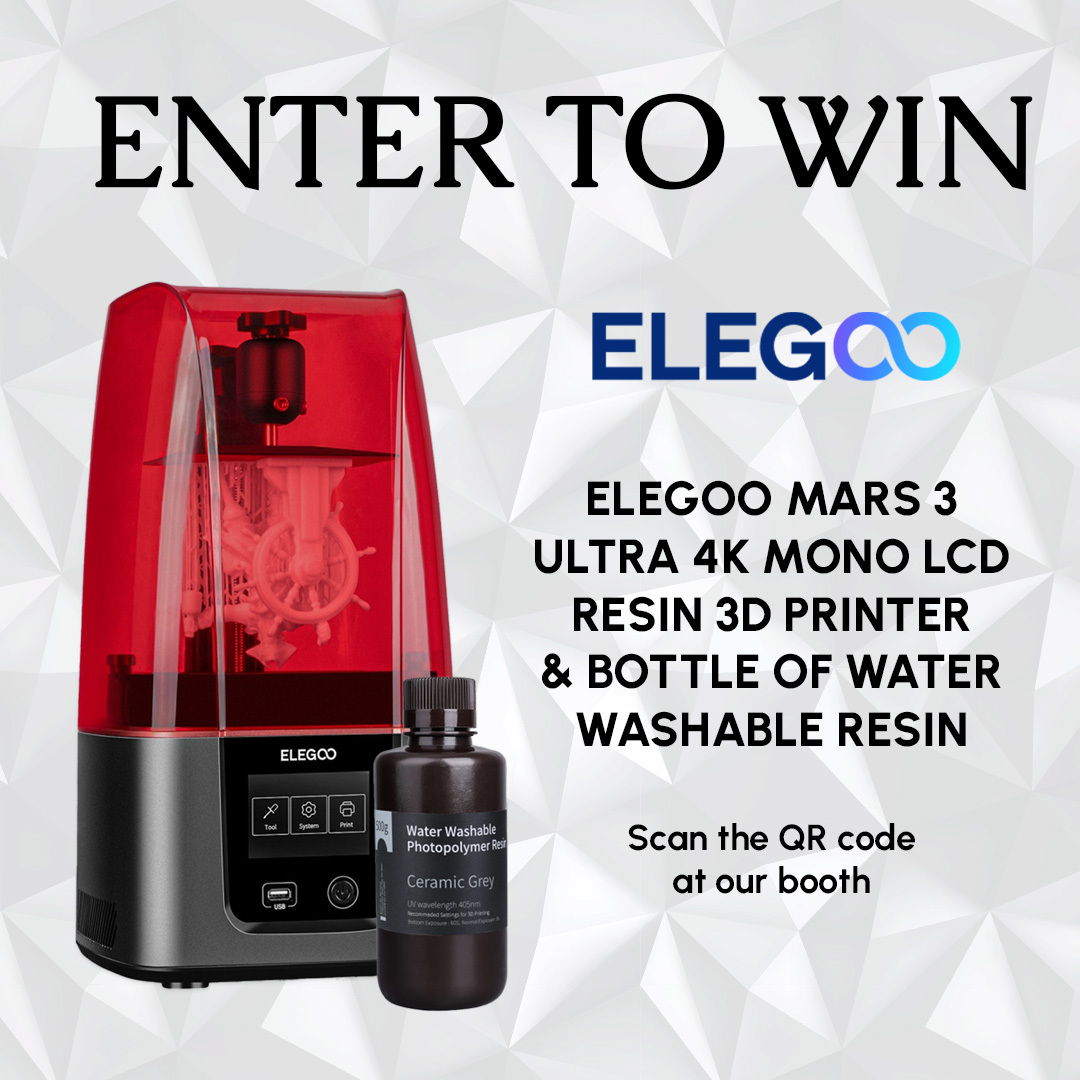 You can also earn bonus entries by posting to TikTok, Facebook, Twitter, and Instagram. (limit 1 entry per platform):
1. Post a photo or video of your favorite Eldritch Foundry mini at the con ⁠2. Use the hashtag #PAXEldritch ⁠3. Tag @eldritchfoundry ⁠4. Follow @eldritchfoundry
We'll pick a winner at 4:00 on Sunday, but don't worry, if you've already left Boston (and you live in the Continental US) we'll ship you your prize!
Additionally, everyone who enters via the QR code gets a special prize after the con.
WHAT'S FOR SALE
Want some minis? We've got about 1,000 unique minis in four giant boxes: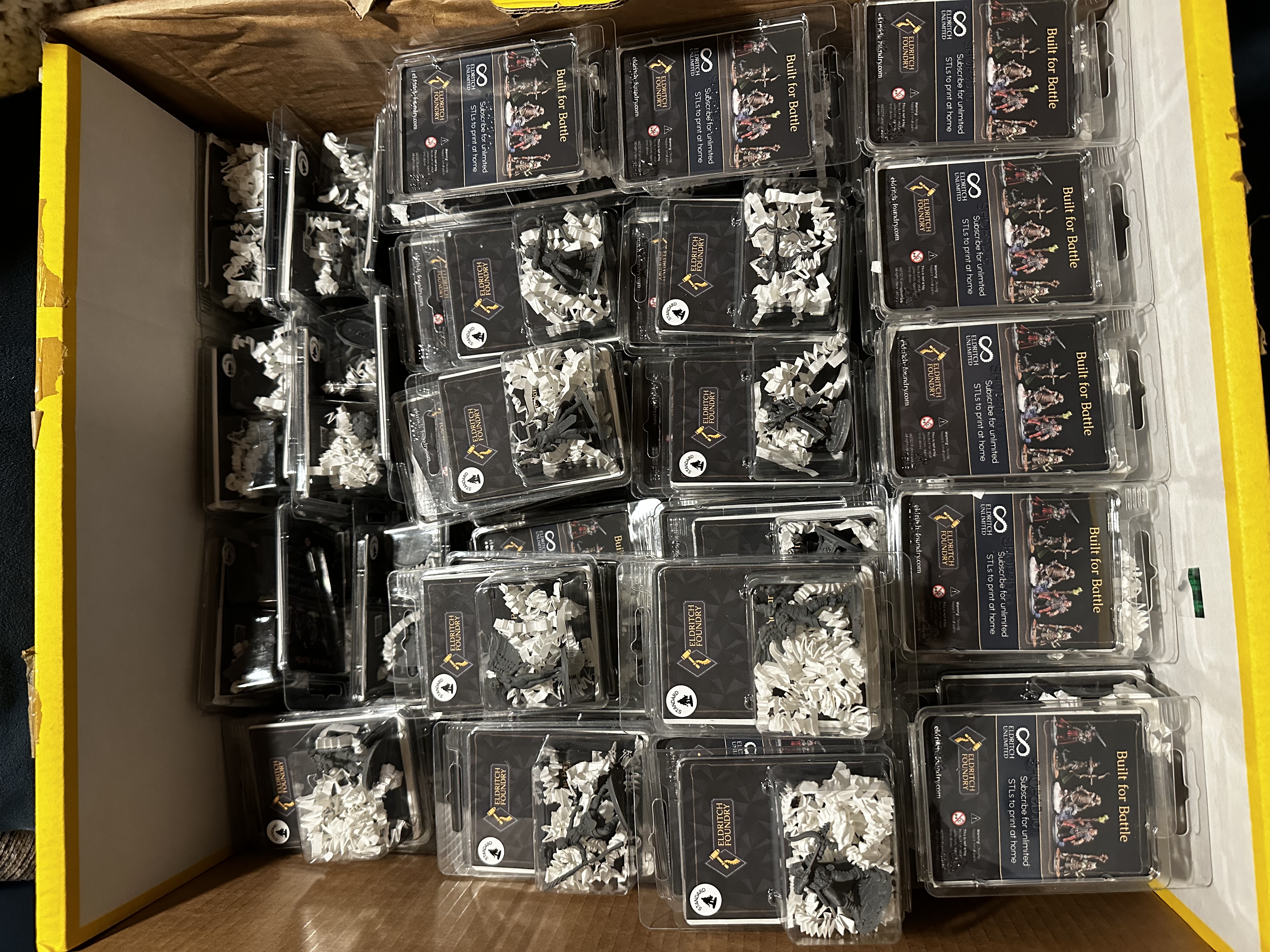 Each of these is a character someone actually designed within the last few months, including all the contest winners from a few weeks back. Some we designed ourselves, and some of these have poses or items we haven't yet released. Can you find them on the rack?
Our philosophy is that any character someone makes using our site is cool and beautiful, but because we are selling them as pre-made miniatures, instead of customized-by-you, they're going to be at a STEEP discount from our usual (already pretty affordable) prices: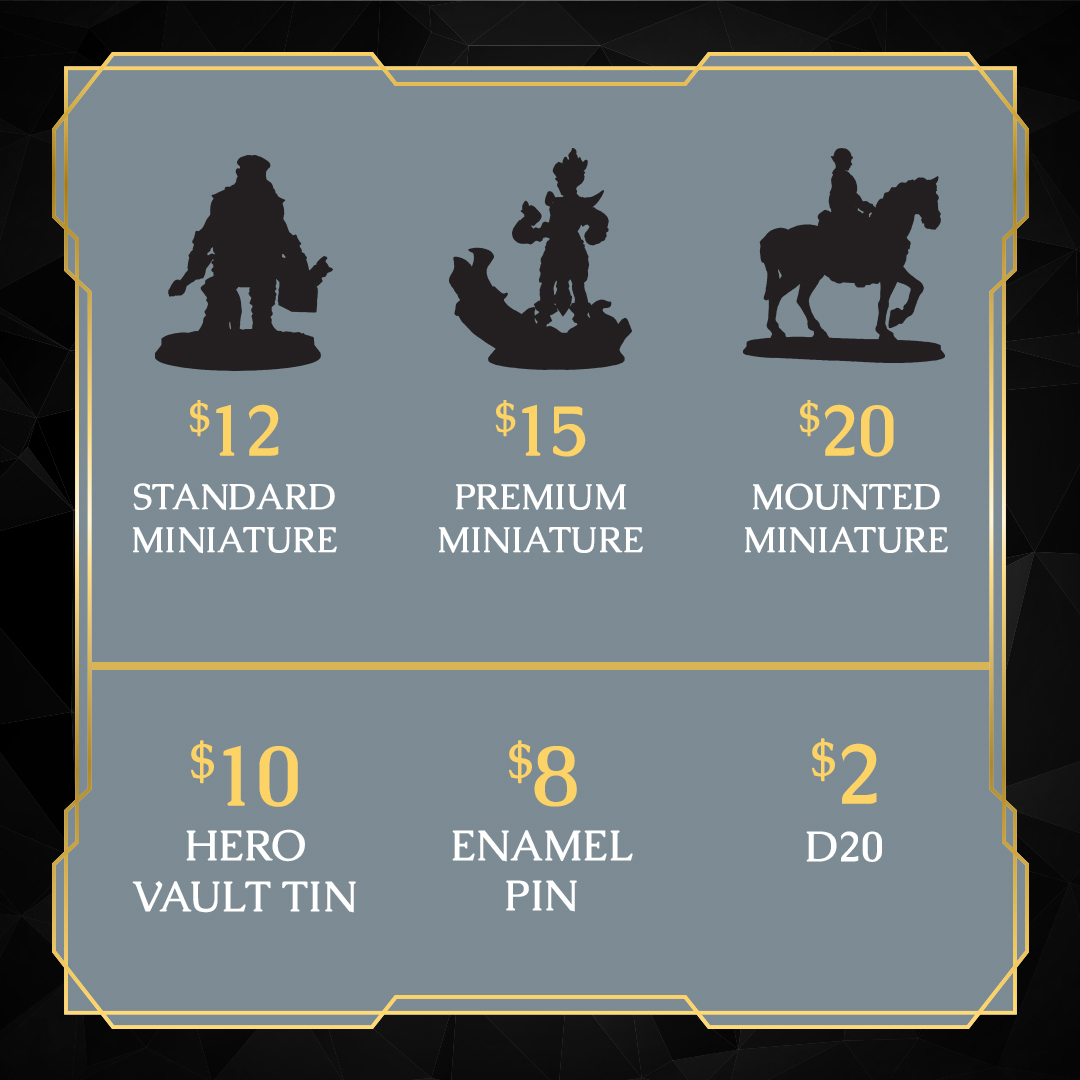 That's right: minis for as little as $12, and packages to outfit your entire party at a double-tremendous discount. Get there early, the best selection will be on Day 1.
Plus brand new pins, D20s, even the return of the long-lost Hero Vault Tins: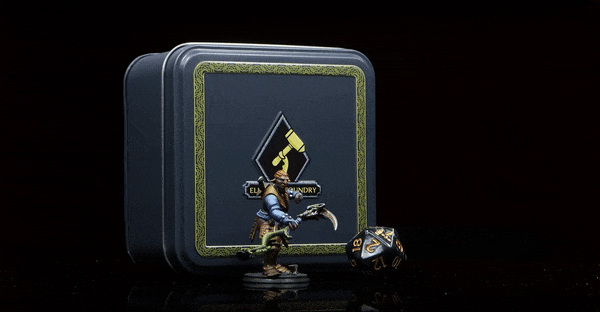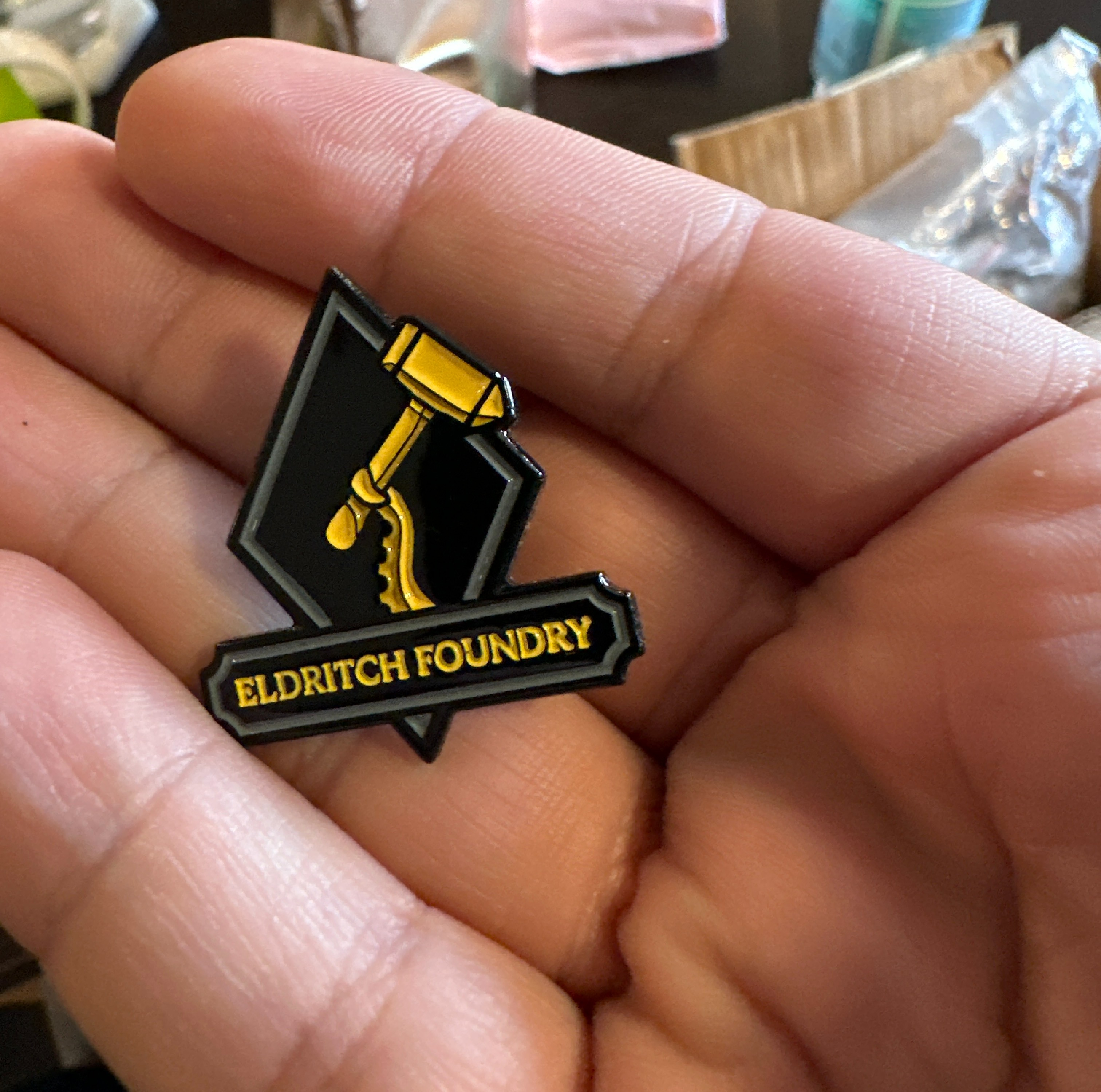 TRY OUT THE CHARACTER CREATOR ON A BIG SCREEN
We'll have two computers so you can give Eldritch Foundry's character creator a spin right in the booth. Show off your elite design skills, or just make the wildest, weirdest character you can!
Like what you create and want to put in an order? Make sure to pick up a gift card or two — we're selling them in the booth for $5 – $15 off. Basically free money.
SPEND $20+, GET A FREE STL
We're giving away free STLs of Edvard Formen, Eldritch Foundry's eldritch "founder": just spend $20+ in the booth.
PAINTED MINIATURES ON DISPLAY
We have a double-sized mini of Edvard to ogle; check out the amazing paint job by Quarterpaint (trust us, Edvard is even more incredible in person):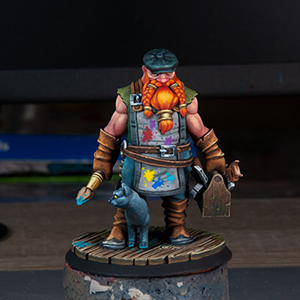 Additional miniatures on display were painted by Ashelyn_gaming, MageBrush, dollar_store_dm, scarlett_skull_forge, and pepperina_sparklegem.
We'll also have a few in the Dwarven Forge booth, hanging out on their gorgeous terrain.
A YEAR OF ELDRITCH UNLIMITED FOR JUST $110
You've read all the way to the bottom, so there's one more thing to mention: we're offering a special, con-weekend-only discount on Eldritch Unlimited, our infinite STL subscription. Normally $120 for an annual subscription (already a $60 savings vs a monthly subscription), it's $110 if you sign up this weekend. This of it like an entire month of unlimited STLs, for free.
This is the one special you don't have to be at PAX to enjoy: we're issuing a temporary price cut for online orders as well using the code PAXUNLIMITED. That discount will run from Thursday morning through Sunday night.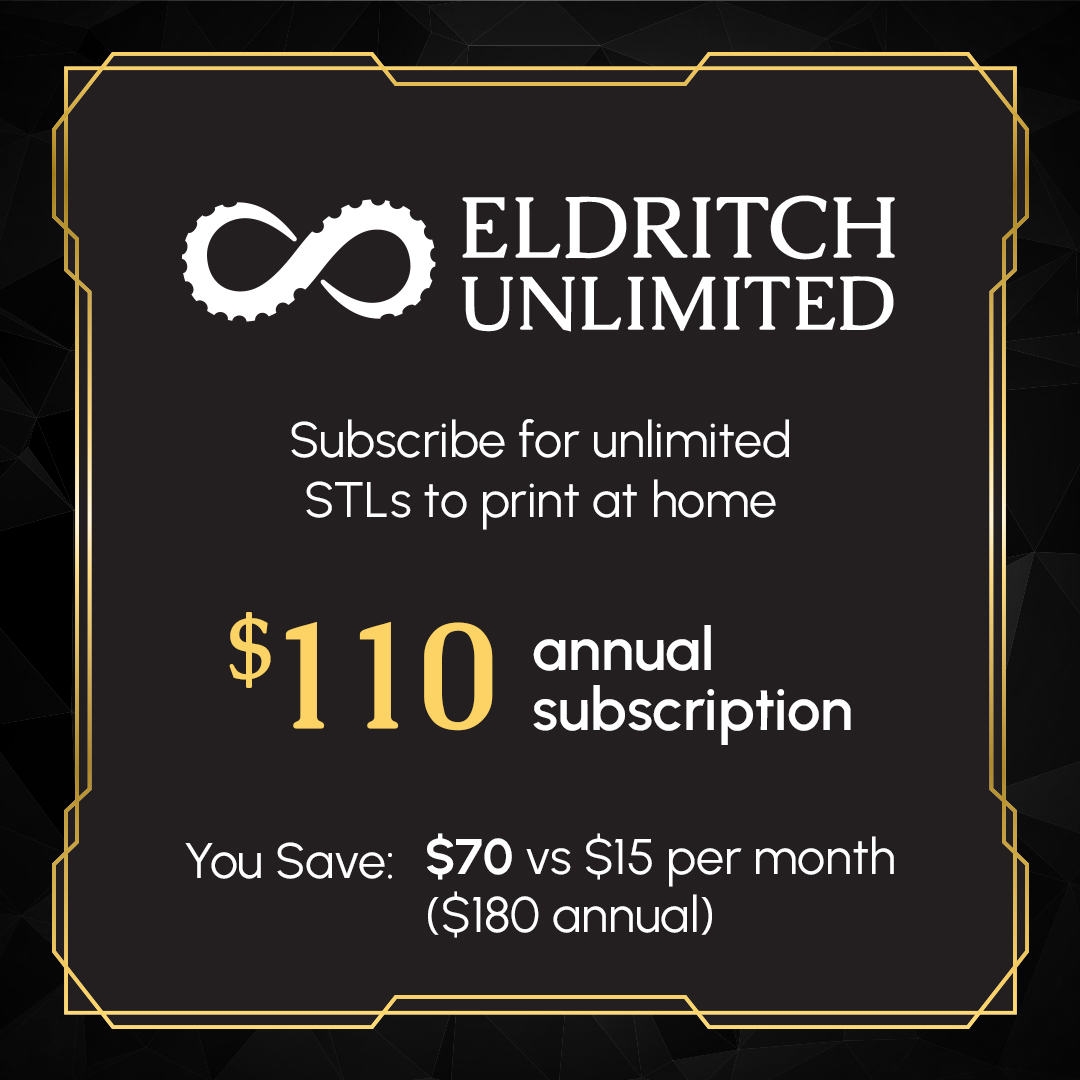 This is our biggest, most amibitious convention presence ever, and we hope you like it. If it goes well, it will be the template for future conventions. Help us make it a success!